LGBTQ-Friendly Rehab in Colorado | Gay Friendly Rehab

Addiction and LGBTQ-Friendly Rehabs
Compared to other groups, alcohol and drug abuse and addiction rates are higher among the members of the LGBTQ population. Co-occurring disorders (disorders that include a substance abuse problem and a mental illness), societal pressures, and discrimination may trigger drug and alcohol abuse and addiction.
Stress and societal prejudice are also encountered by LGBTQ people, especially those residing in homophobic societies. You can just imagine how difficult it may be for them to simply exist, considering all the pressure and discrimination they face on a day-to-day basis. As such, they may resort to using alcohol and drugs to numb the pain of rejection and cope with hostility.
Get a free quote
Fill out our insurance form

We will contact your insurance

We will verify your benefits

You will get a quote. No surprises!
Addiction and the Members of the LGBTQ Community
According to the 2015 National Survey on Drug Use and Health, 39.1 percent of adults who identified as bisexual, gay, or lesbian used an illegal drug in the past year, more than twice the rate for heterosexual adults (17.1 percent).
Members of the LGBTQ community need addiction rehab targeted to their needs, so their best option may be an inpatient drug rehab which offers LGBTQ-friendly addiction treatment programs.
Such programs will provide treatment and help identify and treat the causes of their addictions. Long-term healing and recovery requires both.
Let one of our rehab specialists explain our LGBTQ-friendly rehab programs:
Challenges Faced by the LGBTQ Community
No matter how advanced and liberal a country or a population claims to be, there are still often members of these societies who do not accept anyone they regard as different, including LGBTQ people.
Consequently, members of the LGBTQ community may feel stigmatized and ostracized by society. They may internalize these prejudices and face problems.
These challenges may include the following:
Social judgment or stigma based solely on their sexual orientation
Hate crimes
Emotional abuse
Threats
Public ridicule or humiliation
Fear of hostility from their friends and family if they come out (declare their sexuality)
Loss of employment or promotion opportunities
Self-loathing
It is not easy to deal with rejection, hate, violence, and harsh judgment encountered merely because of sexual orientation. It is even more painful if such negative reactions come from loved ones. This is why LGBTQ individuals may turn to alcohol or drugs to numb the pain from prejudice. They self-medicate to cope with fear, anger, anxiety, depression, and a sense of hopelessness.
Transgender individuals may use illicit substances or misuse other substances for comfort because discrimination and negative stigma may make them feel vulnerable, anxious, and lonely. A 2017 study published in the Journal of School Health found that transgender students were 2.5 times more likely to use methamphetamine (meth) or cocaine than heterosexual students. They are were also twice as likely to abuse prescription benzodiazepines (benzos) and opioid drugs.
LGBTQ-friendly inpatient drug rehab offers better odds for ultimate recovery.
Co-Occurring Disorders: Common Disorders in the LGBTQ Community
For LGBTQ people who are not yet ready to come out to their families and close friends, the decision to remain in the closet may create added pressure, anxiety, and internal conflict. Their fear of being rejected may encourage them to keep their true sexuality hidden from their family, friends, and workmates. They may feel as if they will never be accepted. They may live a double life.Living a double life may create severe psychological repercussions, according to the Psychiatric Times. The repercussions may create emotional or mental health problems.
Among the common emotional and psychological disorders experienced by some members of the LGBTQ community are:
Elevated stress levels
Generalized anxiety disorder (GAD)
Depression
Self-harm
Suicide attempts
LGBTQ individuals also have a higher incidence of mental and physical health problems related to their sexual orientation. This increases the likelihood that they will abuse drugs and alcohol and may experience:
Obsessive sexual behavior
 Sexual dysfunction
Sex-related anxiety
HIV-related angst and apprehension
Sexual abuse
Sexual assault
If we treat an LGBTQ individual's substance abuse and co-occurring mental conditions at the same time in an environment with professionals who are skilled and accepting of LGBTQ-related matters, it increases the chances for recovery and sustained sobriety.
Commonly Abused Substances in the LGBTQ Community
Addiction is common everywhere and there are several addictive substances. According to a 2012 article published by the Center for American Progress, five commonly abused substances in the LGBTQ community are:
Tobacco: Transgender and gay people are 200 percent more likely to use tobacco compared to heterosexual individuals.
Alcohol: Approximately 25 percent of the entire LGBTQ population reportedly abuse alcohol.
Marijuana: Gay individuals are 3.5 times more prone to marijuana use compared to straight males.
Amphetamine: LGBTQ individuals are 12.2 times more likely to use amphetamine compared to heterosexual individuals.
Heroin: LGBTQ individuals are 9.5 times more likely to use heroin compared to heterosexual individuals.
LGBTQ-Friendly Treatment Centers
Members of the LGBTQ community may think twice before finding help for an addiction problem because they fear that rehabs might not be prepared to treat their unique needs.
Fortunately, some inpatient drug rehab centers offer LGBTQ-friendly addiction treatment programs. These treatment programs are designed to serve the needs of every LGBTQ individual. They present environments where LGBTQ members feel safe, accepted, and cared for, without the fear of judgement. Since they may have been victims of discrimination and violence, this kind of environment may help them cope with their negative feelings and addiction triggers, leading to a more successful and stable recovery.
Find LGBTQ-Friendly Rehabs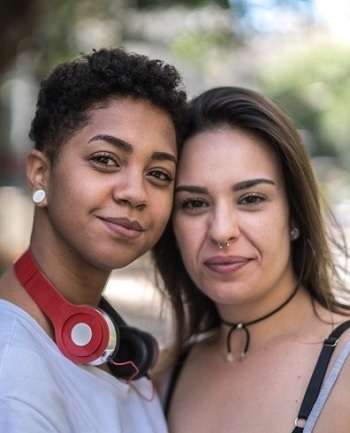 The first step to any kind of treatment is to accept the fact that you need help and want to change. You do not have to suffer alone and in silence. You deserve sobriety.
If you or a loved one needs help with addiction, speak to an addiction specialist today. If you want to find a LGBTQ-friendly treatment facility or program, discuss treatment options with an addiction specialist.
Instead of dwelling on the possible rejection, prejudice, and disapproval of your family and friends, concentrate on your treatment and recovery.
Do not keep your addiction and other problems to yourself. Licensed professionals and addiction medicine specialists are ready to guide you through your treatment and recovery, from your first to your last step.
Choose a treatment program where you feel comfortable. Individual therapy sessions will help you get to the root of your problems while group therapy will show you that you are not alone.
If the cost of rehab and treatment is stopping you, insurance may help cover the entire cost or a good part of it. Most addiction rehabs know how to work with public and private insurers and find other possible sources of funding.
Contact an addiction rehab center today to learn more about these options.
Let our consultants talk to your insurance!
Get a free rehab quote!