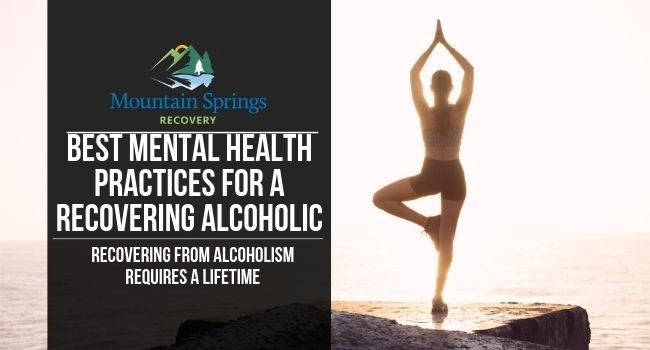 Recovering from alcoholism requires a lifetime of effort and self-awareness to overcome the challenges of sobriety. Achieving this is completely possible if you set a healthy foundation for your best mental health from the beginning of your treatment. By getting the short term help you need and practicing habits that support your best physical and mental health in the long term, you can feel confident in your journey to recovery. Consider these options as you plan your next steps towards a bright future full of healthy habits and a sober lifestyle you'll love.
Short Term Treatment
 If you are an alcoholic new to the recovery process, consider receiving comprehensive treatment as you get used to being sober. Recovering from a serious drinking problem requires a holistic approach to your physical wellbeing as well as your mental health. The first few days or weeks sober may be challenging in many ways, requiring you to show great restraint and take extra care of yourself to avoid a relapse. Perhaps you feel a professional team is a great safety precaution to take if you are worried about withdrawal or temptations. Consider admitting yourself to treatment centers if you need short term support while beginning recovery.
Treatment options include:
Detox rehab centers
Hospitals and prescribed medication
Sober houses with support groups
Long Term Therapy
 Recovery from alcohol addiction is a lifelong journey full of periods where staying sober is either easy or challenging. Emotions or life events can often trigger old habits or reliance on alcohol to numb your feelings, so be cognizant of potential threats to your sobriety. Enrolling in long term therapy allows you to get support in looking out for the signs of relapse and struggles. You can work with your psychologist to feel confident in your new habits and ask for the help you need if you feel your mental health begin to struggle. Psychological treatment over time is a powerful way to ensure consistency in your recovery for life.
 Other long term support resources include:
Hotlines or the national helpline for alcohol abuse
Attending support groups
Regular doctor visits and wellness checks 

 
Mindfulness
 The mind of a recovering alcoholic requires some care and attention to build a new healthy mindset. Old thought patterns and ways of thinking were likely conducive to your damaging behavior, and luckily, thoughts can be re-wired and relearned in your brain. Taking the time to practice healthy ways of thinking will prepare you to show logic and reasoning to process emotions that may otherwise tempt you to drink. By learning how to be present and think through difficult times, you are building healthy coping mechanisms that do not require alcohol.
 Be sure to practice mindfulness through:
Yoga and deep breathing exercises
Journaling emotions or priorities
Spending time in nature
Healthy Habits
 Creating healthy habits is one of the most effective ways to ensure a safe recovery in the future. By replacing your old unhealthy habits with new ways of treating yourself well, you can rely on your wellness routine to support your best mental health. You are less likely to depend on alcohol if you enjoy proper nutrition, high energy levels, and a productive lifestyle. Taking care of yourself regularly also prevents you from partaking in damaging habits such as drinking or drug use. When you want to be healthy and happy, you make decisions that promote your best self.
 Practice these habits as you begin recovery:
Grocery shop for whole foods such as fruits, vegetables, grains
Learn how to cook a few healthy staple meals
Get enough sleep (7-8 hours a night)
Move or exercise for at least 30 minutes a day
Stretch often and meditate after a grueling day
Finding Fulfillment
 Staying inspired and optimistic throughout recovery can be difficult if your alcoholism made you feel alone or stuck in your stage of life. Learning to set goals and build a future you want to put effort into is all about learning the science behind motivation and applying it to your best life. When you find activities that fulfill you, you are less likely to make damaging choices or use alcohol as your source of joy. Connect with people and activities that inspire you to feel excited about a healthy, sober future.
 Get inspired by:
Brainstorming with your therapist
Volunteering
Taking classes on topics of your interest
Helping others
 Setting the foundations for a healthy long term recovery begins at the start of your sobriety. Whether you enroll in a holistic recovery center or simply learn how to build healthy habits that make you feel good, you can take real actions to move past alcoholism for good. Be sure to lean on your therapist, doctors, and support groups to take care of yourself and follow these suggestions to build a well-rounded mental health routine that will prepare you for a lifelong recovery.